To ensure your convenience, below is the information you need about our podiatry offices, including our hours, location, appointment scheduling and insurance acceptance.
Appointments
If, for any reason, you cannot keep a scheduled appointment or will be delayed, please call as soon as possible. Charges may be incurred for appointments cancelled less than 24 hours before scheduled appointment time.

Insurance
Our office accepts a variety of PPOs, and other health plans. Please call our office to verify acceptance of your insurance carrier.

HMOs and some other types of health insurance plans require referrals. Please be sure our office receives a referral (if required) prior to your visit. The referral must come from the primary care provider on file with your insurance company for it to be valid and eligible for payment. If the referral is not received prior, your health insurance cannot be billed for the visit.

In office dispensing of foot care products:
Our office offers an assortment of fine foot creams and lotions as well as topical anti-fungal nail medications for purchase. We also have a wide assortment of high quality over the counter foot orthotics, diabetic shoes and other therapeutic foot and ankle devices.

Pictured below is Lisa O'Brien, the office manager, and Moses, the office mascot.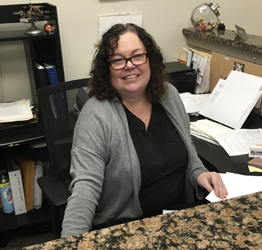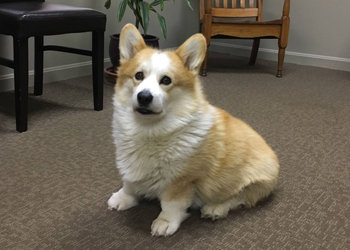 York Office
1 Brickyard Ln
Suite A
York, ME 03909
(207) 363-4224
Mon:
Tues:
Wed:
Thur:
Fri:
10am - 3pm
9am - 5pm
9am - 3pm
9am - 5pm
9am - 3pm